About Us
Eastside started as a church plant from the Williamsburg Community Chapel. We have watched God move amazingly along the way and remain excited about what He will do at Eastside. Just as the Israelites did with their altars of stones we recognize and remember all that God has done... to Him be the glory and the honor forever.
Eastside Church is part of an association of churches in the Tidewater region of Virginia called the Hampton Roads Consortium.

This group of aligned churches are united in the vision and focus of making disciples of Jesus Christ and maintaining cooperative partnerships with each other. We

share the common values of leadership development, world missions, church planting, local outreach, as well as biblical teaching and preaching.



Along with Eastside the group consists of: Tabernacle Church of Norfolk, Centerpoint Community Church,  James River Community Church, Peninsula Community Chapel, Virginia Beach Community Chapel, and the Williamsburg Community Chapel.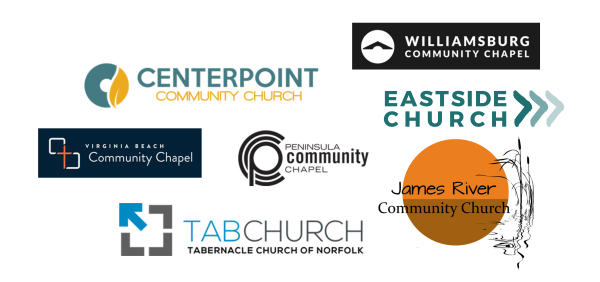 At Eastside, we believe...
In one God manifest in three Persons - The Father, The Son, and The Holy Spirit.
In the inspiration of all the Scriptures by the Holy Spirit, and that they are the final authority for our faith and practice.
In the creation of the human race in God's image as immortal, morally responsible beings whose purpose is to serve and glorify God. Mankind chose rather to serve self-interest and thus all have sinned, creating the need for individual reconciliation to God.
In the Incarnation and Virgin Birth of the Lord Jesus Christ who, by His shed blood, substitutionary death, and bodily Resurrection, paid the redemptive price for our sins.
In the salvation of all who trust the Lord Jesus Christ and the just condemnation of all who reject Him.
In the work of God's Spirit in the new birth, indwelling the believer, enabling him to grow in the likeness of Christ, and filling him with power to live a life committed to the Lordship of Jesus Christ.
In the union of all believers as one body in Christ.
In the bodily Second Coming of the Lord Jesus Christ to claim His own people and to set all things in order.
Click here for our Statement of Faith in PDF.
Our Vision
To be a loving neighborhood church resolute in sharing the Good
News of Jesus Christ. (Matt 22:37; Luke 9:51; John 20:21)
Our Mission
To make disciples who make disciples in union with Christ and
with each other. (Matt 28:18-20; Eph 4:1-6)
Our Core Values
Love the Lord your God with all your heart and with all your soul and with all your mind. (Matt 22:37)
Love your neighbor as yourself. (Matt 22:39)
Foster a community that prays together. (Acts 2:42)
Dwell in the Word of God. (Col 3:16)
Honor one another by listening to each other. (Rom 12:10)
Follow Jesus wherever He leads us. (John 10:4-5)
Click here for our Values PDF.
Membership Covenant
Click here for the PDF of our Membership Covenant.
Meet Pastor Doug Bunn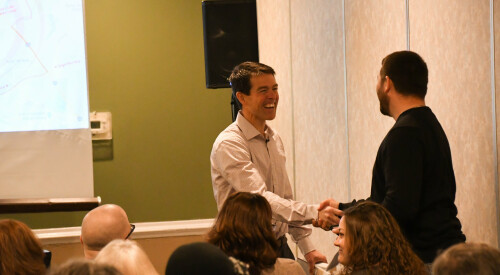 I grew up about 40 miles south of Boston in a city called Taunton. Growing up I attended a little Baptist church where I learned many stories from the Bible from many wonderful people. However, I did not trust Jesus with my life until I moved to Huntington Beach, California in 1989. I met my wife Karen in California and we have a daughter, Jordan and a son, Daniel.
I had wanted to go to seminary to train to be a pastor since I was 22 years old. However, raising a young family in Southern California made it hard to stop working long enough to study. It was just too expensive. After moving to Williamsburg in 2003, things began to simplify some. By 2007, at the age of 40, Karen and I were convinced that the opportunity to seminary full time had arrived. My whole family moved to eastern Massachusetts so that they could be with me while I studied at Gordon Conwell Theological Seminary (GCTS). I am so thankful for how willingly my wife and kids sacrificed in order for me to attend GCTS. I was hired by the Williamsburg Community Chapel in 2012 and am very thankful for my years working there. By 2017, Karen and I were convinced that God was leading us to the east side of Williamsburg. When the leadership later decided that the Chapel would like to start a new church on the east side of town, Karen and I got very excited. Partnering with the Chapel in the starting of Eastside Church has been a wonderful experience. Living in the neighborhood makes it that much easier to ensure that Eastside Church is a neighborhood church.
I am thankful for what God has done and continues to do in my life. No one is ever bored as they follow the Spirit of God!
Meet Reed Willis - Worship Leader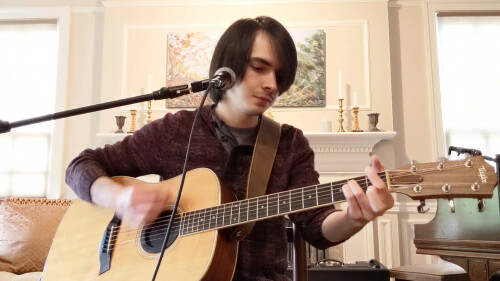 I'm 22 years old, and have spent most of my life growing up in Williamsburg. I've been blessed to have been raised in such a loving family (Mom, Dad, and two older brothers, Ryland and Ben) that have shown me what it looks like to live a Christ-led life, and that created a strong foundation for my faith to grow on. Music has been my passion since I was very young. I play piano, guitar, bass guitar, viola, synthesizers, percussion, and sing. I also compose and write my own music. Growing up, I played viola in school from 5th grade to 12th grade, started a band and became the youngest person to perform at The National in Richmond, got to teach many of my classmates how to play instruments in my junior and senior years of high school, composed and performed my original music at my high school, and now teach contemporary piano, and have released music on major music platforms. I am a student of the Berklee College of Music, where I'm majoring in Songwriting.
From 2011 to 2014, my brothers and I were in a band with two of our friends, which helped me learn how much I loved to make music, and how much it meant to me to do it with others. After that, music was just a dream I had while I planned to focus my studies elsewhere. However, during my junior year of high school, God showed me that music was where He was leading me, and I wanted to dedicate myself to that calling. I started writing and releasing music for my own solo projects, and I had the blessing of reaching friends and others around me through those experiences. God was building bridges and opening doors for me to spread His Word as I surrendered to Him and embraced His callings in my life. Ever since, my dream has been to spread the love of Jesus in various ways to audiences who are not normally exposed to His word.
On July 28th, 2019, while practicing with the worship band at Eastside that Sunday morning, I collapsed from a sudden cardiac arrest. I was without a pulse for 23 minutes as my father and Cliff Gray did CPR on me, emergency responders worked on me, and countless prayers were lifted up. The first thing a doctor told me when I woke up in the hospital was that I had died and come back to life. Not only was God's infinite glory displayed in the miracle of my survival, but also in that I suffered no brain damage. I am thankful everyday and praise Him for my healing, and for how He has used it to bring people together and glorify Him. In the following weeks, I heard God's calling to take time off from school to remain at home for the year and continue serving at Eastside, establishing and expanding the music programs as the Worship Leader. In the summer of 2020, I transferred from Drexel University to Berklee Online to continue my music education while still being able to lead worship here. Serving at Eastside has been an incredible blessing, and I am honored to be part of such a wonderful piece of the Lord's Kingdom. The presence of God, the displays of His power and goodness, and the relationships that I have experienced here continue to bring so much joy.
During my time at Eastside, I've experienced a refining process as God has nurtured me and shown me where I can participate in the good work He has for us. My studies of Christian apologetics led to me teaching the church's ten-week apologetics course in early 2022, and I have also preached on multiple Sundays. Within the last couple of years, I have felt God place a strong desire in my heart to share the Gospel in Japan in the future.
When I'm not working, I can usually be found studying scripture or apologetics; playing, writing, teaching, and listening to music; enjoying and analyzing video games, anime, manga, and pretty much all-things Japanese pop-culture; learning the Japanese language; going on walks; and spending time with family and friends. My original music, including the latest single, "Seven," can be found wherever you listen to music. To read more about God's incredible miracle through the events of July 28th, click here.