About Us
Eastside Church is a nondenominational community church in Williamsburg, Virginia. We are part of an association of churches in the region called the Hampton Roads Consortium. This group of aligned churches are united in the vision and focus of making disciples of Jesus Christ and maintaining cooperative partnerships with each other. We share the common values of Christ-centered, bible-based teaching and preaching, discipleship and leadership development, local outreach, world missions and church planting.
Along with Eastside the Hampton Roads Consortium consists of: Tabernacle Church of Norfolk, Centerpoint Community Church,  James River Community Church, Peninsula Community Chapel, Virginia Beach Community Chapel, and the Williamsburg Community Chapel.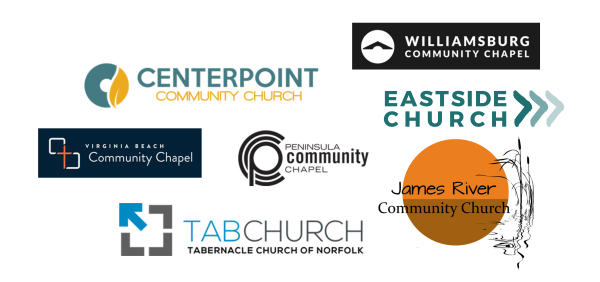 Eastside started as a church plant from the Williamsburg Community Chapel. We have watched God move amazingly along the way and remain excited about what He will continue to do in the future. Just as the Israelites did with their altars of stones we recognize and remember all that God has done... to Him be the glory and the honor forever.
We are a joyful, welcoming, prayer-filled body of believers who desire to grow in our relationship with the Lord and to serve our local community. We hope you will visit some Sunday to worship along with us!
KEY STAFF:
Pastor Steve Cromer, DMin – Interim Pastor
Reed Willis – Worship Leader (read more about the amazing miracle God performed on Reed)
Michelle Flanagan – Director of Children's Ministry
Ashley Willis – Director of Outreach and Caring Ministries
Mark Stedelbauer – Administration
To reach our staff or learn more about Eastside please feel free to contact us.
At Eastside, we believe...
In one God manifest in three Persons - The Father, The Son, and The Holy Spirit.
In the inspiration of all the Scriptures by the Holy Spirit, and that they are the final authority for our faith and practice.
In the creation of the human race in God's image as immortal, morally responsible beings whose purpose is to serve and glorify God. Mankind chose rather to serve self-interest and thus all have sinned, creating the need for individual reconciliation to God.
In the Incarnation and Virgin Birth of the Lord Jesus Christ who, by His shed blood, substitutionary death, and bodily Resurrection, paid the redemptive price for our sins.
In the salvation of all who trust the Lord Jesus Christ and the just condemnation of all who reject Him.
In the work of God's Spirit in the new birth, indwelling the believer, enabling him to grow in the likeness of Christ, and filling him with power to live a life committed to the Lordship of Jesus Christ.
In the union of all believers as one body in Christ.
In the bodily Second Coming of the Lord Jesus Christ to claim His own people and to set all things in order.
Click here for our Statement of Faith in PDF.
Our Vision
To be a loving neighborhood church resolute in sharing the Good
News of Jesus Christ. (Matt 22:37; Luke 9:51; John 20:21)
Our Mission
To make disciples who make disciples in union with Christ and
with each other. (Matt 28:18-20; Eph 4:1-6)
Our Core Values
Love the Lord your God with all your heart and with all your soul and with all your mind. (Matt 22:37)
Love your neighbor as yourself. (Matt 22:39)
Foster a community that prays together. (Acts 2:42)
Dwell in the Word of God. (Col 3:16)
Honor one another by listening to each other. (Rom 12:10)
Follow Jesus wherever He leads us. (John 10:4-5)
Click here for our Values PDF.
Membership Covenant
Click here for the PDF of our Membership Covenant.