Christmas Caroling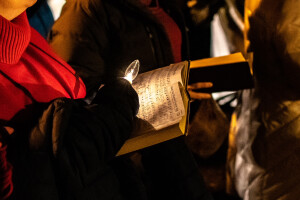 Sunday, December 12, we are going Christmas caroling in the neighborhood! First, we will gather at Eastside and then set out walking and caroling. Then we will return to the church for refreshments and fellowship. Feel free to bring your favorite baked goods to share. See you December 12, 5:30-7:30 PM!
Stocking Stuffers
Anyone interested in giving stocking stuffers for our Brentwood neighborhood ministry should bring your items to church on Sunday, December 12. Stocking requests include: simple ornaments; clementines; wrapped/packaged healthy snacks; fun stickers for girls and boys; etc. Stockings will get stuffed right after the worship service. Thank you!
Healing Prayer Service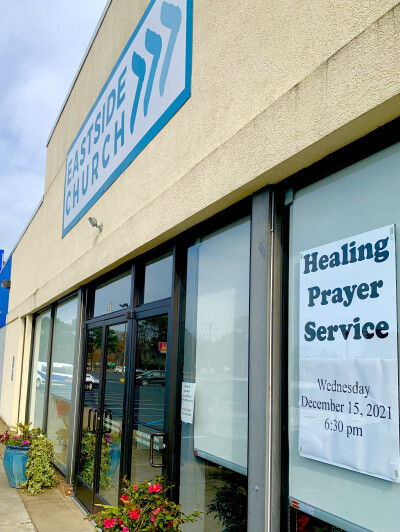 Everyone is invited to the healing prayer service 6:30-7:30 PM on Wednesday, December 15. We are eager to pray for physical, emotional, and spiritual healing as we come before the One who forgives, heals, redeems, crowns, and satisfies (Ps 103). Please invite anyone who you know needs healing. God will get all the glory! "Stretch out your hand to heal and perform signs and wonders through the name of your holy servant Jesus" (Acts 4:30).
Fun Way to Help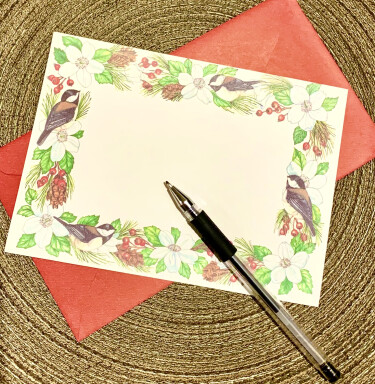 The Community Care team will meet at 1 PM on Saturday, December 11 and Sunday, December 19 for Christmas cards and fellowship, so please join us! Your help will bless others during this season.
Young Adults' Christmas Party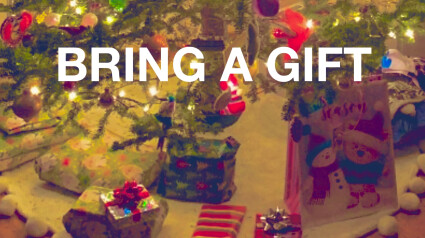 Mark your calendar for the December 19 Young Adults' Group Christmas party, 6-8 PM. Anyone who has wanted to come to the group, but hasn't been able to, may find this is the perfect time to try it out! Please bring a relatively nice, unisex gift of $5-10 value for a "Yankee Swap."
Note: Young Adults are going Christmas caroling with Eastside at 5:30 PM on December 12, and that will replace the usual group gathering. Bring your friends!
Christmas Eve
Our Christmas Eve service will be held at 4:30 PM on December 24.
Friday Praise
Join us Fridays at 2 PM on Facebook and Instagram for songs of praise @eastsidechurchva.
Volunteers Needed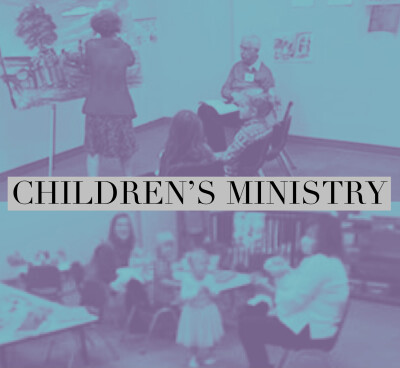 Have you thought about serving children and families of the church? You are invited to join this vibrant ministry! Childcare/children's ministry is offered during the 10 AM service, and if you are interested in volunteering, please click here. Sign up for shifts that suit your schedule! All volunteers will undergo a simple background check.
Apologetics Class
Join us for our upcoming weekly apologetics class beginning January 11, taught by Reed Willis. We will be learning about the historical, scientific, and philosophical evidence that proclaims the truth of Christianity, as well as how to lovingly and confidently share our faith with non-Christians. If you have ever pondered questions such as, "Why would God allow evil?" or "Do Christianity and science contradict each other?" or if you are seeking to bolster your faith by learning about the abundant evidence of Christianity, we encourage you to join us Tuesday evenings at the church, starting January 11, 6-7 PM.
Sunday Scenes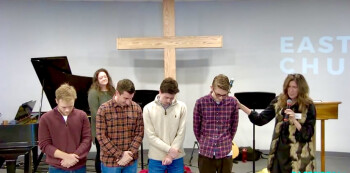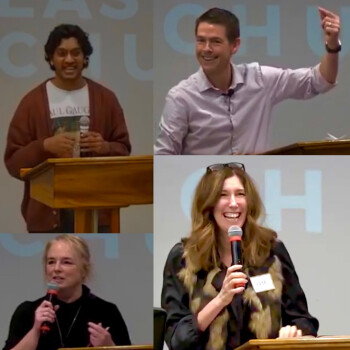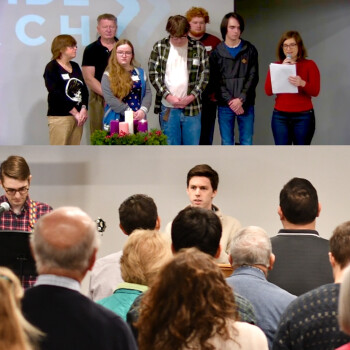 We worship in person at 10 AM and our service streams live on our YouTube channel (Eastside Administration).
Sunday Songs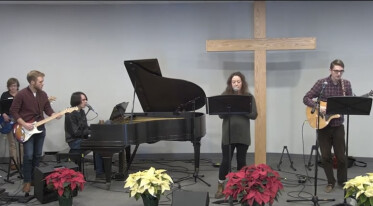 Lyrics for this week's songs can be found by clicking on the links below:
Start Your Sunday Here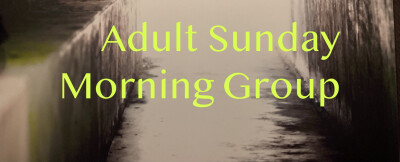 Join us Sunday mornings at the church at 8:30 for an interactive Bible study. This group will meet December 5, 12 and 19.
Questions? Contact:
Steve Cox |
Taylor Simon |
Mike Simon |
Sunday Prayer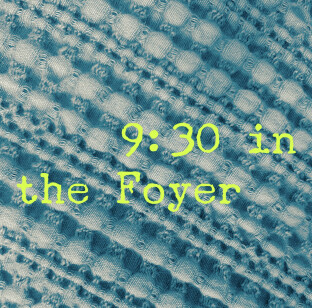 Please join us for prayer in the foyer at 9:30 on Sunday mornings.
Scenes from Christmas Worship Night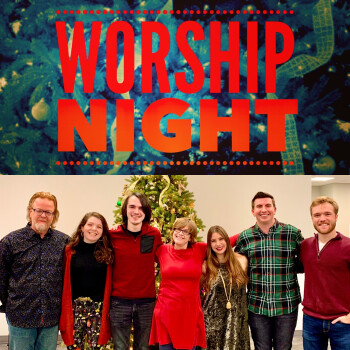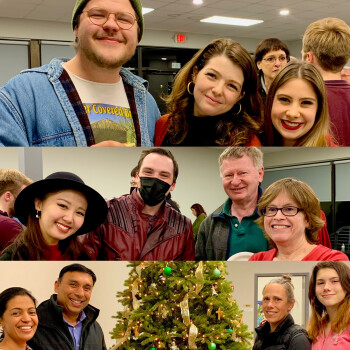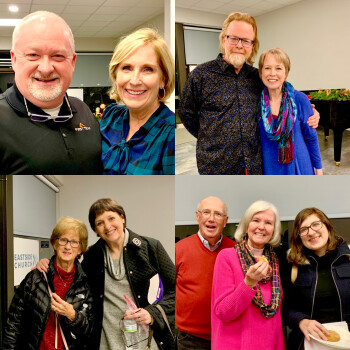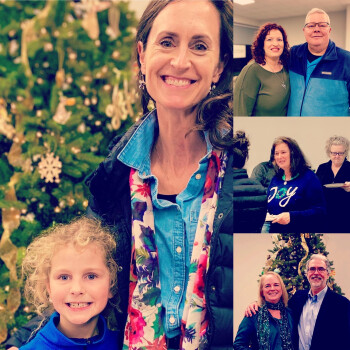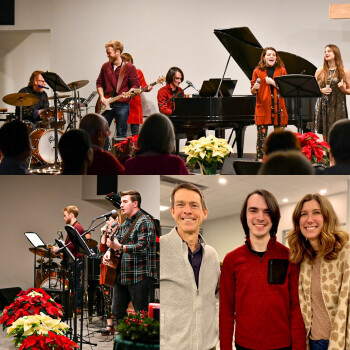 It was a wonderful night of Christmas worship music and fellowship with our brothers and sisters in Christ. We hope you will join us in the spring for our next worship night!
Pray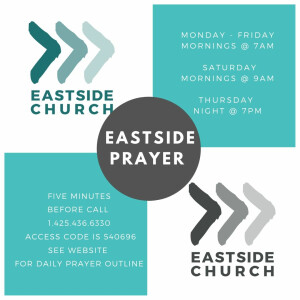 "This is the confidence we have in approaching God: that if we ask anything according to his will, he hears us" (1 John 5:14). Eastside prays in community Monday-Saturday by teleconference.
Check our website for daily prayer sheets with responsive readings to enhance your prayer time.
Prayer Requests
Do you need prayer for something going on in your life? We have prayer team members who would love to pray for you and your situation. If you want us to pray privately and confidentially, we will do that. If you would like your prayer requests to be shared and prayed for by our open prayer groups, we can lift them up during our weekly prayer times.
Contact
Community Care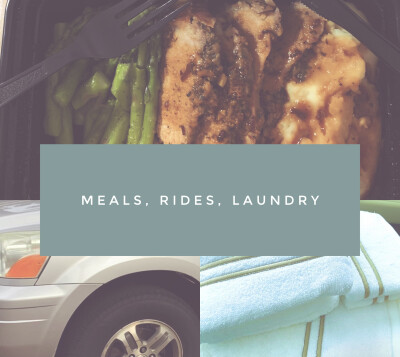 Are you willing to help members of your church family? If so, please email for more information.
If you or someone you know has a need that can be met by our Community Care Team, please email .
Thank You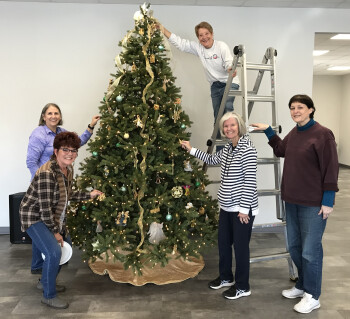 Eastside volunteers had a joyful time decorating the church for Christmas!
Poinsettias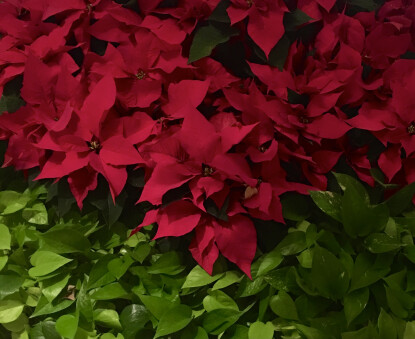 If you would like to order a Christmas poinsettia in memory of a loved one, please complete a form (located with the offering boxes) and include it with a payment of ANY amount. We will display the poinsettias in the worship room along with cards that indicate the giver and the one in whose memory it is given. No dollar amount is too small, so please pay what you would like to pay. Then you may take home your poinsettia after the Christmas Eve service on December 24.
Important Dates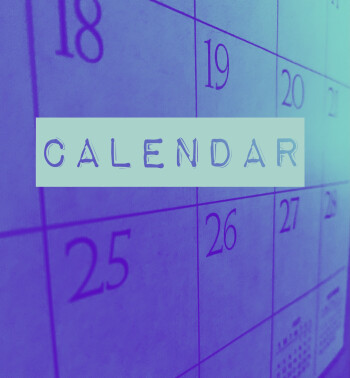 Click here for the Eastside calendar.
Give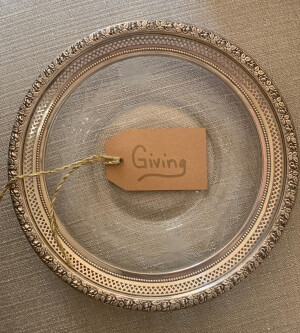 Please click here for everything you need to know for giving online, by text, or by mail.
For January - November 2021
Budgeted: $230,000.00
Actual through November 30, 2021
Offering Received: $241,816.65
November 2021
Budgeted: $30,000
Received: $25,369